9180NS - High Durability Scissors - No Serrations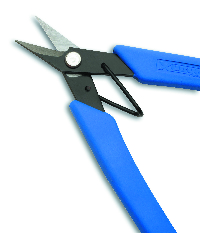 A non-serrated version of our Model 9180 High Durability Scissors.

For applications where serrations are not necessary or not desired.

Cuts jump rings leaving a flat end on both sides of the ring. Also appropriate for cutting soft sheet metals.

Return spring brings tool back to open position after each use and soft non-slip rubber grips keep tool secure in the hand.
Ideal for cutting metals and wire with a shear action for a flush cut every time. Cuts up to 1.29mm (16 gauge) soft wire and 1.02mm (18 gauge) soft sheet. Both feature return springs and soft, nonslip rubber handle grips for comfort, ease of use, and exceptional control.
Made in USA.